Gallery éf
Festival Month of Music
Forest under the Moonlight vol.10
December 2011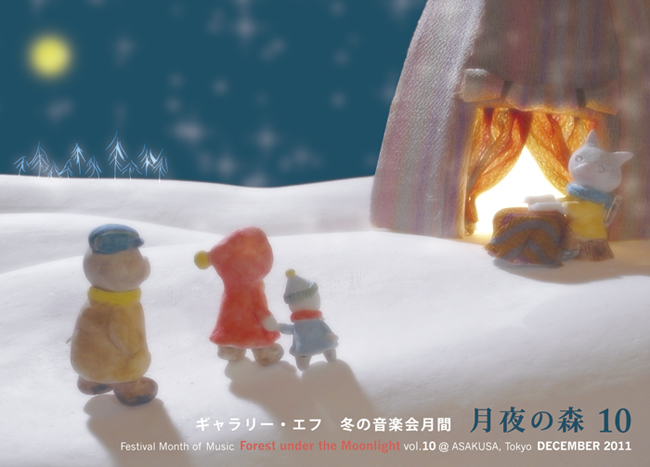 admission (each performance)
[adv.] 3,000 Yen [at door] 3,200 Yen
+ 1 drink 500 Yen
Admission limited to 25 each, reservations by email required.
Booking will close as soon as tickets run out.
SCHEDULE | DECEMBER 2011

1 THU. 19:30
jazz
Toshio Miki (tenor sax) + Shin kamimura (bass)

3 SAT. 14:00 | 18:00
novel reading
Banjo Ginga
Yoko Suzuki (violin)

SOLD OUT




4 SUN. 18:00
Indian Classical Music
Aki Ueda (sitar) + (Kazuto Sashihara)

11 SUN. 14:00 | 18:00
poetry reading
chori




14 WED. 19:30
Koichi Makigami (voice) + U-zhaan (tabla)

SOLD OUT

15 THU. 19:30
accordion, djembe, bass
TABINEKO-ABURA-DAN
Daisuke Iwahara, Eri Umeno, Naoki Nishimura

SOLD OUT


17 SAT. 15:00 | 19:00
OHAME:
Miu Sakamoto (voice, song) + Yuichi Ohata (guitar)

SOLD OUT

18 SUN. 14:00 | 18:00
ethnic instruments
TENKUU:
Gyoten + Percussion Hana

SOLD OUT

21 WED. 19:30
flutes
UNRYU

SOLD OUT




23 FRI. 15:00 | 19:00
SATSUMA Biwa lute + lecture
Kakushin Tomoyoshi

How to purchase tickets for the event:
easiest way: Advance tickets are available at the venue.

Or, please send us an email with the following information:
- The day of the event you're interested in
- The number of persons attending
- Your name and cell phone number

We'll respond immediately confirming if there is space available for your selected day.
Upon confirmation, please transfer the money for the tickets, within one week.
To transfer the funds please go to your local post office and tell them you wish to transfer money to the following Post Office account:

00180-8-408129 Gallery ef

When we confirm your money transfer we'll fix your reservation. If we don't receive the transfer within 10 days your reservation will be automatically canceled.
There are no refunds.