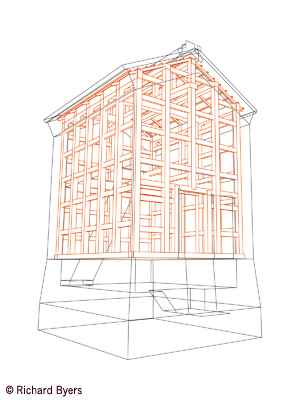 Site specific visual installation by Australian new media artist Richard Byers.

In most of his works he touches light to create resonance within our world and our sense of it. He conveys this sense through photography, films, interactive light installation, performance etc. In this exhibition he treats the traditional Japanese storehouse of Gallery éf, itself as the artwork, using time-lapse movie, scale replica model, photography and drawings, conveying the sense he derived from the space and the diverse conversations with the building's guardians.

The Kura (a timber and clay storehouse) built in 1868 in Asakusa, survived 2 great fires that completely burnt down the area, the Kanto Great earthquake of 1923 and Tokyo air raids bombings of 1945. Built as an 'Uchi Gura' (inner storehouse) that one would enter through another main building. The front face of the building would have been hidden from view and over time, urban development has now obscured the entire building from view to most except the birds. In essence the Kura's outside is hidden from view and it's inside is visible, a reversal of society or our self, of whom we can see the outer, but our inner self is invisible, obscured from view.

Inside the Kura we see the strong wooden structure and clay walls, protection from fire, earthquake and crime, giving a glimpse of the Edo era of Japanese history, it's culture & society. After renovating as an Art space in 1996/97 it has evolved as a building that today stores ideas as much as objects, developing events & exhibitions where the exchange of diverse contemporary inspirations and issues between artists and others take place. Byers spotlights this holistic inner/outer state, he visualises the inner that the outer embraces, and the outer that reflects the essence of what is within, as a single work, and by presenting it, allows us a sense of the process, of our own inner and outer selves and a sense of the whole.

His time-lapse images invoke an invisible landscapes that exist over time, a structure both floating and sinking in an urban valley. It presents a day, or eternity, of a building that has seen 145 years of life flow around and through it, surviving many horrors but receiving the day's light again.
Richard Byers
b 1974 Melbourne
Australian light artist, designer, programmer & photographer Richard Byers is currently based between Europe, Japan and Australia. Working previously as creative director for one of Australia's largest product design consultancies, Richard is now a freelance artist, working across the fields of photography, interactive light installation, performance and new media art. Often collaborating with musicians, dancers, artists and architects, Richard's passion is light, with it's subtle power to invoke emotion and create enjoyment through its' interaction within our world and our sense of it.
Recent highlights include a performance in Liechtenstein at the Ambassadors Information Day 2012 at the request of the Australian Embassy Berlin for ongoing collaborative project sound.transmission.light, and a personal project creating a public interactive light installation onto a tsunami damaged building in Ishinomaki, Japan as part of recovery efforts after the disaster in March 2011.
"ISHINOMAKI SUNLIGHT" @ Gallery ef, Asakusa | Tokyo | Oct. - Nov. 2012
"ISHINOMAKI SUNLIGHT in Sydney" @ Gaffa | Sydney | Jan. 2013
"Build With Light" @ Hiyori Art Center | Ishinomaki | Apr - May 2013
Other works include; Awarded artist in residence at the Digital Culture Centre, State Library of Queensland, Australia in 2010, performances & installation at the Sydney Opera house for Sydney Festival 2006/07/08 and photographic assignments for ARS Electronica Linz, Austria, Sonar music festival Barcelona, Spain.
http://richardbyers.tk/
http://richardbyers.tk/2012/03/ishinomaki-light-projection-ceremony/
[ VENUE: Gallery éf, Asakusa ]
ADD: 2-19-28 Kaminarimon, Taito-ku, Tokyo
A wooden and clay warehouse built in 1868. It survived two great fires: huge earthquake in 1923 and Tokyo bombing in 1945. Renovated as an art space in 1997. Registered as a cultural asset in 1998.
[ READ MORE ]