"It is not only nothingness (mu), but here 'nothing' has a form, this is exactly the space that butoh is searching for...Dominique is searching for a new invisible space which only comes out of her body, beyond any intellectual meanings....it was excellent that she quoted from Japanese traditional culture/Ikebana, Noh, Calligraphy, and appropriated them well instead of falling into orientalism."
Shinichi Takeshige, dance critic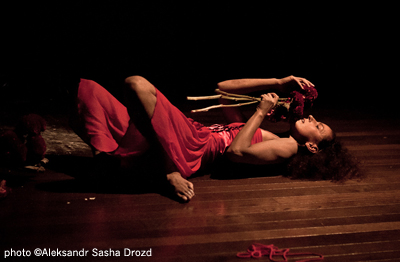 DominiqueBB | concept, performance, installation
A London-based artist who has a multi-disciplinary approach in her practice. In her highly visual performances and installations, the theme of the human body and its connection to its environment recurs and draws inspiration from Japanese Butoh dance's approach to the body.
Dominique BB website >>
in collaboration with...
Arihiro Yamada | live music & sounds
In 2006, he started his improvised music project, using water, stones, woods, wools, cassette tape recorders, and other materials; the, its theme was body and matter, memory, and space.
Atsushi Kakumoto | lighting design
Yose Morishita | ikebana advisor
Gallery éf
ADD: 2-19-18 Kaminarimon, Taito-ku, Tokyo
The space was originally built in 1868 as a warehouse. It remains the embodiment of Edo architecture. It has miraculously survived two great fires: huge earthquake in 1923 and bombing under the 2nd world war, and constant re-development thus making it unique in downtown of Tokyo.