30 Dec. 1997 -11 Jan. 1998
I Made Bukal (Bali Island)
Selamat Tahun Baru
Traditional Balinese detailed paintings
Sponsored by GUDAN GARAM
Corporatied by Fukagawa Baron Club
Imade Bukal, living in Bali, paints very detailed pictures. He painted the traditional image of Bali. There was a Balinese Dance, a Gamuran Performance, shadow pictures and traditional "Ganboo" dance.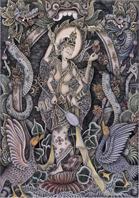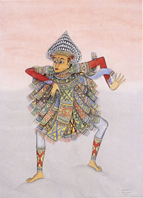 photo: Hideki Shiozawa

Dance Performance
Fukagawa Baron Club
Bali dance & instrument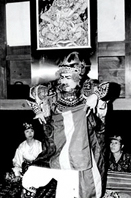 photo: Yukio Hen'mi
---
15-19 Jan.
Reiko Sanada
Melting Colour
textiles dyed and weaved by hand
---
11-16 Feb.
Mitsue Kishi
The House of Tiles
collage
---
18 Feb. - 16 Mar.
Toshiwo Ishii
SHIRUSU - The Mark
ceramic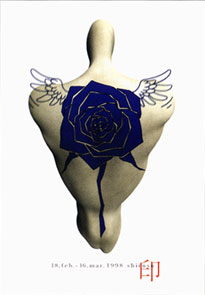 flyer design: Kazunari Miyazaki
From 18th of February to 16th of March, Toshio Ishii had an exhibition at the gallery ef, which is located in Asakusa, in downtown of Tokyo. This gallery was originally built as a warehouse 130 years ago, but it was going to be destroyed in1996. However, the young heir and her artists friends decided to renovate it as a new space for a gallery.
Toshio was one of those artists. The gallery itself has a very impressive character, but Toshio tried to coceal this from the audience. On the first floor, a torso was floating in the darkness and a moving picture was thrown onto it. This torso was placed on a steel pedestal of 1.6 m height and a film, made by Toshio was shown by two projectors.
On the other hand, the second floor was much lighter and there were three torsos. Traditional interior of this room was meant just as a pattern for this display. Three torsos were harmonized with this pattern.
"I am not sure what I will create in the future. This feeling may have motivated me to create something", Toshio said. In fact, he had changed his choise of media over ten years, from graphic design, to wood furniture, to ceramics . In spite of these changes, for these several years what Toshio has thought for consistently is a concept of "SHIRUSU", which means marking something for its identity.
Torsos, being made of china clay, are mainly designed in the shape of a human beings. Marking the surface are patterns, like tattoos, of clouds, roses, wings, diamonds and so on. According to Toshio, these patterns signify the personality and character of the torsos. "To mark the human body, it means to make up for something lucking. While animals have their fur and patterns, human beings get satisfaction from decoration.
In 1990, Toshio traveled through Asia, the Middle East , Europe and the Soviet Union for one year when he was studying at graduate school of Tokyo National University of Fine Arts and Music. " I identified myself as a Japanese. This journey is to confirm my identity."
"I have created something lucking in me. I'm just making up for it. I will continue to create things which excites me"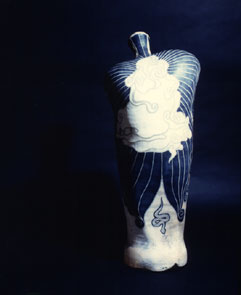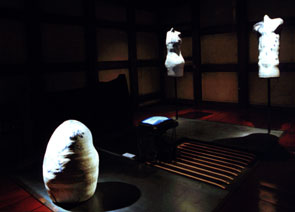 EVENT
Body Decoration
LIVE EVENT
The way of marking of the wandering lute player
collaboration with: Kakushin Tomoyoshi (SATSUMA lute player)
---
Gallery éf the 1st Anniversary Exhibition
8 Apr. - 3 May
ZETTAI SHONEN
Nostalgic Future Fairies
lighting object
sponsored by ODELIC Co., Ltd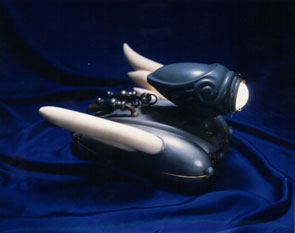 Material Fairy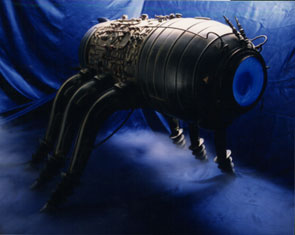 Material Evil
photo: Hideki Shiozawa
A long time ago, the fairies lived in the deep forest. The more human beings got used to material life, the less the fairies could find places to live. but now, the fairies have discovered a new place to live in this junk yard. Now is the time to move to the hemisphere of Material Fairies.
ZETTAI SHONEN symbolizes absolute youth. ZETTAI SHONEN is an artist endowed with the soaring spirits.
What's MATERIAL FAIRIES & Material Evil
It is said that Material Fairies are born in the junk yard. So, their bodies look like art-deco electric appliances or classic cars. Fairies have milky white wings with their bodies. Inside these parts, incandescent lamps emit light softly and at random in a heartbeat rhythm.
The large scale model "Material Evil", had installed within it a TV display and a computer. This Evil performs images like an eye and its voice. Material Evil is trying to turn our cities into junk yards.
HOW TO MAKE A MATERIAL FAIRY
At first, an original design is completed as a graphic design. Based on this design, sculpture style-forms into a mold. Varnish an aqueous putty on the surface and make a silicon cast of the mold. Inside this silicon cast, put FRP (Fiberglass reinforced plastic) and form each part. Put together each FRP part and paint it. Decorate this figure with parts made of brass. Install some electric bulbs and circuits to control the light at random. ZETTAI SHONEN established its studio in 1986 and has been creating its own characteristic world of "Material Fairies".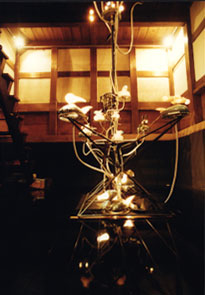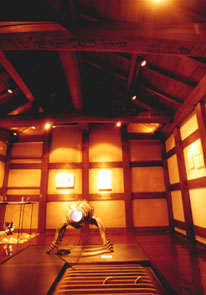 photo: Hideki Shiozawa
LIVE EVENT
The wind blowing through the city
collaborated with UNRYU (flute player)
VISUAL WORK
Zettai Shonen - ABSOLUTE YOUTH
Visual + Music: Kin Taii
Produced by Gallery ef

video is available at Gallery éf: 3,000 yen (VHS)
This is the first promotion video of Zettai Shonen. The images of the exhibition are mixed into Kin's image of nature. Kin mixed the image of material fairies and his own nature images.
---
4-18 May
Ciel + Ai Okano
Powder Cosmos
dolls + drawing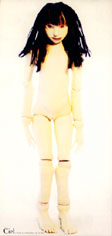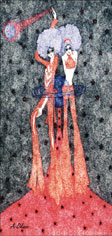 ---
22 May
LIVE EVENT
Hokuyo Kanda
The Things I Have Never Told You Before
traditional Japanese storytelling
---
17-28 Jun.
Big Eaters
Journey
photograph
---
1-27 Jul.
Tsugio Nabeshima
CHAOS
URUSHI (Japanese lacquer) work
On the ground floor, pottery shaped objets were displayed, water drops were falling into those objets and created sounds like metal xylophone. During this exhibition, a new building was being constructed next door. The dropping sound and construction noise created mysterious sound space. On the first floor, original instruments, creating new sounds, were displayed. This place was produced to communicate with people. Visitors could play freely and collaborate with each other. Bench artist, Shinji Arano and Gundel player, Tsunehisa Yoshida participated in this project.
---
Aug.
Taiyo Nakata + Yoshimi Matsumoto + Tetsu Murakami
Shoku, Shoku, Shoku - Meal, Colour, Touching
ceramic
A group exhibition of young ceramic artists. In a usual ceramic exhibition, visitors can not touch the exhibits. But in this exhibition, visitors could touch and participate in the exhibition. Its title was "Shoku, Shoku, Shoku" . There are three kinds of words pronounced "Shoku "and each Shoku means "meal", "color" and "touch". All the works were placed by the walls. There was a big wooden table in the center. Visitors could chose whatever they wanted, and place those dishes according to their own personal image of "table" . They would explain the situation - the time, the place, occation and participants - on the paper provided and on their photo. Later, the artists selected 2 or 3 visitors' creations and awarded the visitors all the dishes . During the exhibition, visitors could enjoy meals with those ceramic works in the gallery.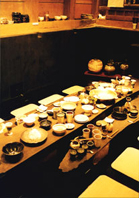 ---
30 Aug.
LIVE EVENT
Yayoi Yula
voice performance at Cross Club
produced by Yayoi Yula + Gallery éf
---
14-27 Sep.
Ko Soda
Shoes + its workshop
handwelted shoes
This exhibition introduced the works and his work place. He made shoes by hand, not using a sewing machine. The first floor was his products showroom.The second floor was his work place. We noticed that people who visited this exhibition stayed a lot longer than people did for other exhibitions.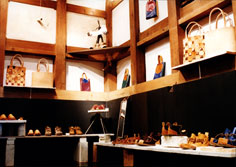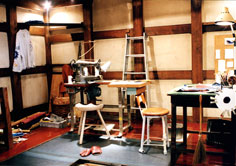 ---
30 Sep. - 19 Oct.
Jim Hathaway
18 bridges over the Sumida
black ink painting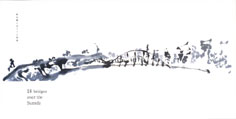 In Edo people lived on the river, now they live on the train. I said that when I painted the 29 stops of the Yamanote series some years ago. It made me think. It made me go back to the river. I have spent the last two years sketching the river, and that led me to the bridges. The Sumida has a wonderful collection of bridges. Each bridge is unique. Each living in a different space.
The idea of a bridge is also inviting. The Tokugawa government did not allow many bridges. Bridges were seen as a threat to Edo's security. But now bridges are Tokyo's hope. Bridges between people, between countries, between ideas. East and West meet on a bridge. It is a new world.
The Bridges exhibition will be held in a little gallery space that is inside of an old Kura, a storehouse - It was one of the few structures in Asakusa to survive the great earthquake and the bombing. Now it is a magical sort of an art space.
text by Jim Hathaway
---
25 Oct. - 15 Nov.
LIVE EVENT
The Month for Live Performance
starring




Kumiko Takahashi
Under the roof at Asakusa
chanson
Junko Ohtsu
Recitatif
violin

Teruo Isono
KATARAUTA
acoustic guitar & song
Hokuyo Kanda
Between day and night
storytelling




Greg Lee
KOTETSU
electric base guitar
Kinya Sogawa + Roly Cazas
SHAKUHACHI Under The full Moon Night
bamboo clarinet
Unryu
Sound of the Wind
native American flute
---
2-20 Dec.
Kin Taii
Floating and Hallucination
visual installation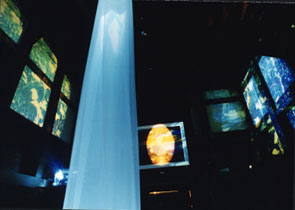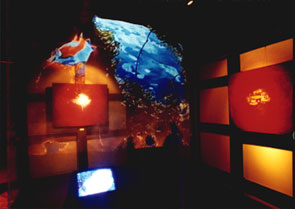 photo: Hideki Shiozawa
Kin Taii is a musician and visual creator. He created an installation of visuals and music. Its theme was "Circulation". The image reflects the dark/light duality of everything in the world. The visual image of nature has many faces, and Kin weaved them into spiritual image throgh thenology. The image is toobeautiful to be scared. This was a ambient space of music and visuals.
LIVE EVENT
Circulation 2
collaboration with Kakushin Tomoyoshi (SATSUMA lute player)
KIN TAII Original Video
ANDROGYNOUS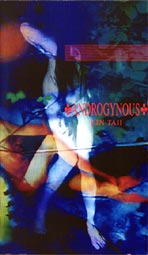 ANDROGYNOUS 48min. (1995)
ANDROGYNOUS 48min. (1995)
videos are available at Gallery ef: 3,000 yen (VHS)