Paule Saviano photography exhibition
"FROM ABOVE in Nagasaki 2013"
TUE. 9 JUL. - FRI. 2 AUG. 2013
@ Nagasaki Peace Museum
7-15 Matsugae-machi, Nagasaki City
MAP >>
MEDIA REPORT >>
closed on Tue. 16/ Mon. 22/ Mon. 29 July
9:30 - 17:30 (-14:00 on the final day), entrance free
======================
THU. 8 - SUN. 18 AUG. 2013
@ Canal Gallery, Nagasaki Prefectural Art Museum
2-1 Dejima-machi, Nagasaki City
MAP >>
10:00 - 20:00, entrance free
FLYER DATA >>
produced by FROM ABOVE in Nagasaki planning committee, Gallery ef
in collaboration with: Nagasaki Peace Museum, Community Media Co., Ltd., Art Commission Nagasaki
supported by: Nagasaki Prefecture, Nagasaki City, Nagasaki Foundation for the Promotion of Peace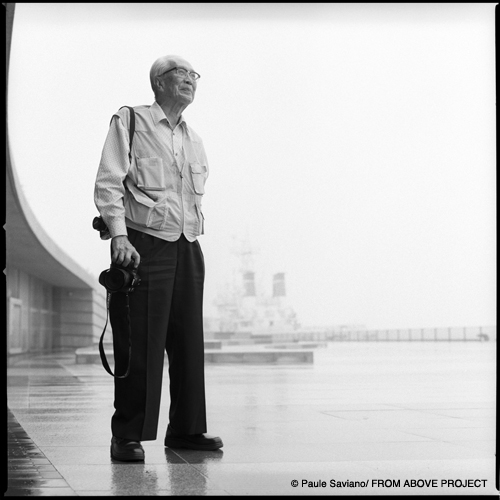 PROJECT PAGE >>
PHOTO BOOK "FROM ABOVE" >>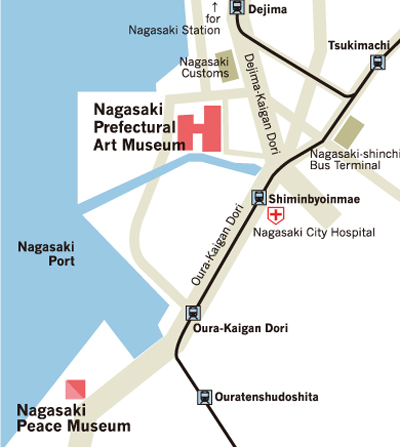 footage produced by Community Media Co., Ltd. (C) 2010-2013
Mr. Senji Yamaguchi passed away, on the 6th of July 2013.
MESSAGE FROM Senji Yamaguchi TO THE WORLD >>
Japan Time articke >>
I photographed Mr. Yamaguchi while in Nagasaki for the From Above project. It was an unexpected opportunity that was presented to me by reporter Tetsu Mori. One of those moments I will never forget in life. He was not in good health but still had a sharp mind and understanding of current events. He had not left his home or received many visitors much during the final decade of his life. I greatly appreciate the invitation from his wife, Sachiko-san, to meet Mr. Yamaguchi. I cherished the 40 minutes photographing and speaking with him. I will never forget this moment. He is probably the most impressive person I've ever photographed.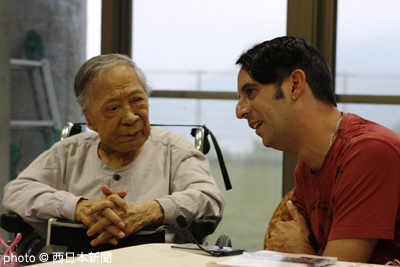 Mr. Senji Yamaguchi and Paule Saviano
2 July 2010, Unzen City, Nagasaki
photo (C) Nishinippon Shimbun


In memory of Mr. Senji Yamaguchi
by Paule Saviano
Mr. Senji Yamaguchi would not have wanted the day of his passing to be centered around him. He would have wanted it to be a day the world remembered the hibakusha, both alive and deceased, and that the atomic bombings of Hiroshima and Nagasaki not just be remembered with dates and statistics. He would have wanted it to be remembered as events which inflicted immense pain, sorrow and hatred to generations of fellow human beings that should never be repeated again.
Mr. Yamaguchi was one of the most courageous hibakusha who dedicated every moment to the abolition of nuclear weapons and recognition for his fellow hibakusha. The world is a better place because he tirelessly traveled the world to educate people about the horrors of war, nuclear weapons and radiation.
During the last decade Mr. Yamaguchi's body grew more fragile but his spirit did not lose the courage to make sure the catastrophic consequences of nuclear war were not passed over by the waves of time or society's weakness for ignoring what is not desirable. His words and actions transcended the boundaries of ethnicity, culture and generational differences.
The lessons of Hiroshima and Nagasaki must be learned so that Mr. Yamaguchi's generation is the last generation of hibakusha to have suffered from the vengeance of nuclear war. His actions are more important today because more nuclear weapons exist to destroy the world many times over and a new generation of hibakusha, suffering from radiation exposure, has been spawned due to the use of unabated nuclear power.
We should not let the message of Mr. Yamaguchi and other hibakusha be forgotten shortly after their passing. The best tribute you can give to them is to never forget the lessons of Hiroshima and Nagasaki; and not to tolerate the excuse of war being a justifiable reason to settle differences.
The world is a better place because of his actions. Now the world is a lesser place without him.