open 19:00 start 19:30 Wed. 20 May 2009

improvising story and sound
Shinji Ishii (author) + Kakushin Tomoyoshi (SATSUMA Biwa lute)
---
19:30 Thu. 4 June 2009
Shigeri Kitsu solo live vol. 4
Japanese folk songs
SOLD OUT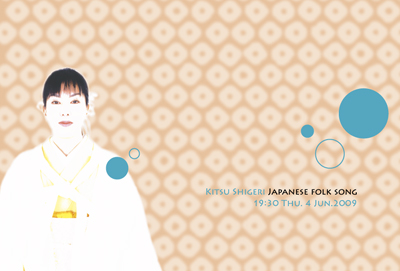 Shigeri Kitsu presents Japanese folk songs such as love songs, lullaby, festive songs, work songs, etc., rooted in regional communities from south to north of Japan.
These simple songs portray season's scenery, respect for nature, celebration and sorrow to everyday life, and the emotional attachment to the region.
Her expansive "Japanese Voice" passionately evokes us original Japanese landscapes and rhythms.
Voice and Japanese drum, absolute acoustic.
guest | Kasumi Watanabe, 25 strings Koto player
Although all songs are sung in Japanese, you don't need language skill to enjoy this event :)
---
15:00 / 19:00 Sat. 27 June 2009
Kakushin Tomoyoshi | SATSUMA Biwa lute
hanaichikan vol.29
ticket | 3,500 Yen + 1drink 500 Yen
Admission limited to 25 each, reservations by email required.
Booking will close as soon as tickets run out.
How to purchase tickets


Kakushin Tomoyoshi
(C) Shinchosya


Osamu Hashimoto
(C) Hisako Ohkubo

"hanaichikan" is a serial cultural lesson (lecture + playing) being held at each season.
The Chapter 7 "Dialogue on Japanese Classics" invites the author Osamu Hashimoto to explore what traditional music reflects us today.
(45 minutes dialogue + 15 minutes music)

chapter 7
Dialogue on Japanese Classics vol.1
"Kosui Nokkiri"

hanaichikan archive and info about the instrument >>

You need Japanese language skill to enjoy this event :(
---
How to purchase tickets for the event:
easiest way: Advance tickets are available at the venue.
Or, please send us an email with the following information:
- The day of the event you're interested in
- The number of persons attending
- Your name and cell phone number


We'll respond immediately confirming if there is space available for your selected day.
Upon confirmation, please transfer the money for the tickets, within one week.
To transfer the funds please go to your local post office and tell them you wish to transfer money to the following Post Office account:
00180-8-408129 Gallery ef
When we confirm your money transfer we'll fix your reservation. If we don't receive the transfer within 10 days your reservation will be automatically canceled.
There are no refunds.